.: How does HypnoBirthing® work?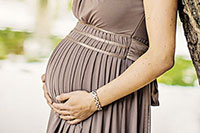 Many women encounter a pregnancy not only with joy, but unfortunately also with fear.
This fear, which is firmly rooted in our culture, is a result of the release of stress hormones during childbirth. The release of these stress hormones leads to tensing and cramping of muscles and thus to pain.


Hypnobirthing is based on the idea that this fear - tension - pain cycle and can be prevented.
The Hypnobirthing process uses various methods of deep relaxation, breathing techniques, positive affirmations, fear release, but also education on how the body works and reacts, in order to create a happy birth experience.
It is a mental way to prepare for the birth, a holistic approach and also a wonderful addition to the classic childbirth class .


Hypnobirthing is a philosophy and technique with which birth can be experienced without fear or stress and as a result, pain is often significantly reduced.
The method was designed by Marie Mongan in the U.S. in 1989 and has proven itself worldwide successfully in over 10,000 births.
For more Information visit:
www.hypnobirthing.com