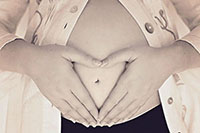 How to use relaxation and self-hypnosis techniques to eliminate the fear and tension that causes long labor and pain and to replace them with confidence, calm and comfort.
How the female body is perfectly designed to birth a child.
How the myth was created that pain must be a part of every birth and how this myth can be replaced with the knowledge that birth can and should be calm and peaceful.
How to use deep relaxation during and between uterine surges to minimize pain and discomfort.
How to use powerful visualization and breathing techniques to bring about an easier birth.
How to avoid labor induction and episiotomy and how to activiate your body's own anesthesia.

About the importance of prenatal and perinatal bonding.
 
The time alloted for the course will provide ample opportunities to practice breathing and relaxation techniques.
It is recommended that you start the course around the 25th week of gestation. This way you'll have sufficient time between classes and after the course to regularly practise the relaxation techniques and to prepare your body as best as possible for giving birth.